Middle and Elementary School
Science Teaching Strategies
Teaching middle school science can be one of the most rewarding jobs in education when the right strategies and processes are implemented in your classroom.
Below are some of my best ideas to completely transform your classroom into one where every student is engaged and takes ownership of their learning.
Even more strategies are taught LIVE every month by Steve Spangler in the Kesler Science Membership.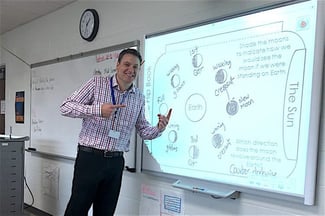 Increase Engagement
in Middle and Elementary Science Class
---
I started my career in corporate America as a systems analyst for a computer company. There was a high value placed on efficiency in the work environment. When I moved over to education I found lots of opportunities to make my classroom run as smoothly as possible. It almost became a game to me. This … Read More
Creating an engaging escape room experience for your middle school science students doesn't have to be difficult. Set your escape rooms apart from the others by weaving a narrative throughout the activity. Students will become invested in the story and the artifacts and puzzles will be more meaningful to them. I have put together a list of … Read More
I used to play classroom Jeopardy as a science review game before I realized I was doing it all wrong. I want to share with you three truths about why my science review games needed a complete overhaul. More importantly, I'll give you some suggestions on how to improve your students' participation and ultimately improve … Read More
access every resource.
Kesler Science Membership
Imagine never having to search for another middle school science lesson again. The membership gives you access to ALL of the Kesler Science products in one place (Yes, including everything above).
Say goodbye to long hours of lesson prep.
More Middle School Science Teaching Tips and Strategies
Back to school always felt like a fresh start for me. One of my favorite parts about teaching was that each year I got a chance to correct the wrongs from the previous year. I used the first few weeks of school to build relationships with students and to put them into situations that helped …Read More
Are Science Stations Effective Middle School Science Activities? Science stations are a staple in my classroom and have made the biggest impact on student mastery. I'm a firm believer in student-led learning in any subject, but in science, it is so important that hands-on exploration is part of the learning process. There's no reason your …Read More
Download
Over $100 in FREE Resources


For Middle School Science

Simply create a login below and gain immediate access to a selection of our Kesler Science product line worth $100 - for FREE. There's a full version of every product type! You'll also join tens of thousands of middle school science teachers who receive timely tips and strategies straight to their inbox.