Kesler Science
Membership
Hundreds of Low-Prep Science Lessons You Can Rely On
You can count on Kesler Science materials to be engaging, low-prep, and standards aligned.
You can trust the tens of thousands of teachers who have made us the best-selling TPT science materials for nearly a decade.
You can expect appealing, differentiated materials with editable digital and paper versions.
When you're ready to save time and increase outcomes for your upper elementary or middle school classroom, Kesler Science is here for you.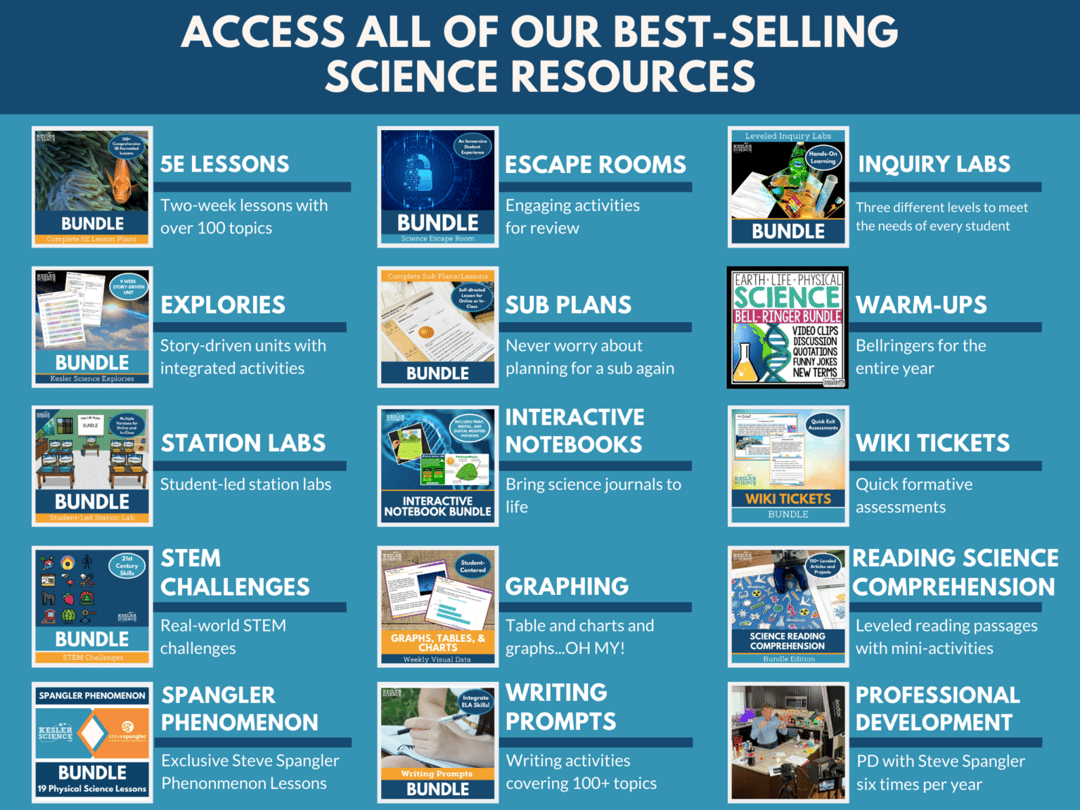 The Kesler Science Membership provides you access to all of the above resources and more. As a member, you will also receive all updates to existing products and access to future Kesler Science classroom materials.
Reduce the stress of planning great science lessons by joining the membership today.
Professional Development
with Steve Spangler
LIVE one-hour professional development sessions from Steve Spangler six times per year
Great experiment ideas on a shoestring budget
Explore best practices and engagement strategies that really work.
Ask questions… because it's live and interactive!
All sessions are recorded and available to members for 30 days.

Membership Benefits
Access Hundreds of Science Resources
Members have access to hundreds of resources, including distance-learning options, from an award-winning science teacher.
Save Prep Time
Our materials are thoughtfully organized and already differentiated so you can focus on teaching.
Ongoing Professional Development
Each year, Kesler Science members have access to six one-hour professional development workshops via Zoom with Steve Spangler.
Materials You Can Trust
Tens of thousands of science teachers have used our resources and found them to be rigorous, standards-aligned, and engaging.
From Our Members
Real, unsolicited stories from classrooms just like yours
Hey Chris,
I wanted to let you know that I have been a member since January of 2017. I was recently hired on as an assistant principal.... I am really going to push and see if I can get this material for my science department that I will be leading. I wanted to let you know that this material literally saved my life!
I have used it for the last three years, and I have seen more success each year. I worked in a very low income school (78% economically disadvantaged population), and over the last three years, we have seen a 7%-9% increase on STAAR scores each year!
Before I purchased my membership we had a 59% passing rate, and after 2019 we were at 77%. The amount of material the membership gets you and the ease of use is easily the best science material for middle schools! I am so glad I was part of everything, and I can't thank you enough.
Thanks again,
Justin R. (via email)

Thank you, Chris Kesler, for what you've done for me, and for what you've done for my students this year.

We've been stuck in virtual learning all year long, and the community I serve has been unbelievably hard hit by this pandemic.... I spent the first quarter scrambling to adapt a hands-on curriculum for online learning, and while I was successful during that first quarter, I was also burning my candle on both ends.

That's when I discovered that you'd overhauled the entire Kesler curriculum for online learning. With the Kesler materials, my students have almost universally made huge growth in their science scores. So much so, in fact, that my benchmark data comes with an exclamation point warning and the statement "Expected Growth Exceeded (change is statistically significant)." They've grown in ways people thought was going to be impossible in this virtual world.

It wasn't just my students who did better this year as a result of your help. My own teaching practices improved. I've always been proud of the work I do in the classroom, but this is the first year I've been given -across the board- Highly Effective ratings from my admin. You played a major role in that. Every time an admin popped into my online class, they saw the students working through Kesler materials. My attendance was high, the interaction and engagement with the content was high, and the quality of the learning environment was evident and obvious

And it was easy. IT WAS EASY.

I can't even begin to tell you how much time I've saved by using the Kesler materials. You've allowed me to do the work of TWO teachers this year, teaching 7th and 8th grade, and your lessons made the work easy and fun. All the planning was done. All the adjustments for online learning were done. All the differentiation was done. Flat out, you've changed the way I approach this entire profession. I'm happier, my students are succeeding, and I'm able to close down my ZOOM window at the end of the school day with zero concerns about what we're doing tomorrow. While so many teachers around me are fighting for survival, I feel like I'm tiptoeing through the tulips over here.
Nathaniel C. (via Facebook)
Join the Membership Now
Join Thousands of Science Teachers and
Access ALL of the Kesler Science Resources Today.
Make Technology Work For You
Whether you're on campus, in a 1:1 environment, or in a distance-learning situation, we have the resources to make your year run smoothly.
Watch the quick video about how the 5E lessons will allow your students to learn from anywhere.
Frequently Asked Questions
Can your resources be used for distance-learning?
Yes. Most of the products already include distance-learning options which allow students to work on activities remotely and independently.
Will your products work with my LMS? (Google, MS Teams, Schoolology, Canvas, etc.)
Yes. The files are usually PPTs, PDFs, or Word docs so they can be distributed easily to your students through your LMS. They are also editable which provides the flexibility to use them that best meets the needs of your students.
If I already own the 5E bundle is this still worth joining?
Thanks for purchasing it! The 5E bundle is only one component of the Kesler Science Membership. You will continue to own the licensing rights to your purchased bundle whether you are a member or not, but joining will give you access to so much more.
Is there a time commitment for the membership and can I cancel at any time?
The monthly subscription is valid for one month. It bills automatically each month so there is no interruption in your access.
The yearly subscription is valid for one year. It bills automatically each year and you'll be sent an email reminder before the billing occurs. Your license to use the products remains active as long as you are a monthly or annual member and ends if you cancel. You can cancel either subscription at any time before the next renewal, but there are no refunds. I'm confident the membership will provide you so much value that you wouldn't even consider canceling.
Can we share a license or membership?
Each teacher will need their own license. Kesler Science is able to provide affordable resources directly to teachers and districts and asks that everyone abide by the terms of the license to keep prices low. Some exceptions are allowed for substitute and resource teachers (please see the Terms of Service for details).
Will I get access to new materials in the membership?
Yes, the membership included updates to existing materials and all new Kesler Science classroom materials.
What grade levels do your materials cover?
The lessons and activities are written for 5th-8th grade.
What is the difference between the monthly and annual subscription?
There is no difference in the material you have access to. The annual subscription is billed once per year and saves you about $60 compared to the monthly billing.
Will I be able to download/print items in the membership?
Yes, you are able to print materials, download materials, and share materials with your students through an LMS or email. The materials just need to be protected by a login or other sign-in so they are not made public. Please see the Terms of Service for details.
Is professional development included in the membership?
Yes! We have partnered with Steve Spangler to bring exclusive professional development to all Kesler Science members, six times each year. Members will be able to attend LIVE Zoom professional development with Steve. The PD will be recorded and accessible for 30 days following the workshop.
Can schools and districts make purchases?
Why wouldn't a middle school science teacher sign-up for the Kesler Science Membership?
Good question! We think it's one of the easiest decisions you can make as a science teacher.
Materials for every facet of your classroom plus professional development that doesn't put you to sleep - for less than a dollar a day? Yes, please!
School and District Purchases
Bulk discounts are available for multiple teachers.
Schools and districts can pay through invoices using purchase orders or credit cards.
submit a quote request to begin the process.
Purchase orders are accepted. Please
Standards Alignment Guides
Middle school science teachers from every state use Kesler Science resources. Use the alignment guides below to find the Kesler Science materials that meet your state standards. Find the materials that directly align with TEKS or NGSS standards, or see the materials sorted by topic.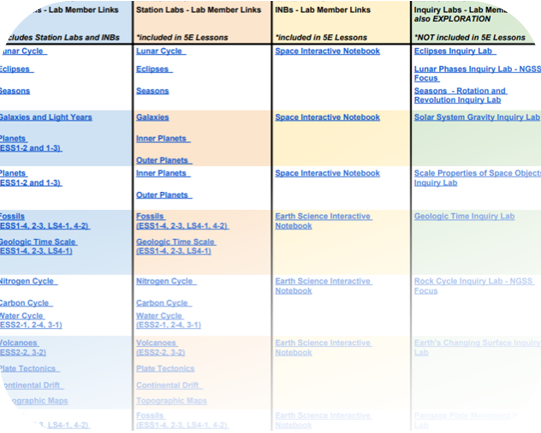 What Other Teachers are Saying: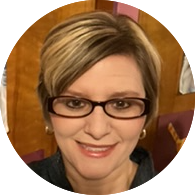 Never hunt for lessons again.
It's a lifesaver! It's like a kid in a candy store or opening gifts on Christmas morning! I wish I had found this resource sooner.
TRACY MOZINA // Science Teacher
Administrators love Kesler Science.
My principal was SO IMPRESSED by the Station Labs. She loves that the students have many ways of learning and showing they know the material. I've set it up for them to move from station to station. The fact that they're not stationary is a PLUS.
MARJORIE AUGUSTIN // Science Teacher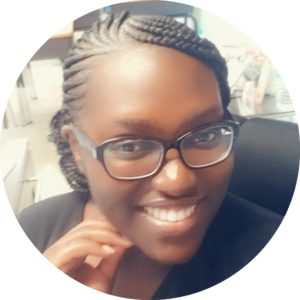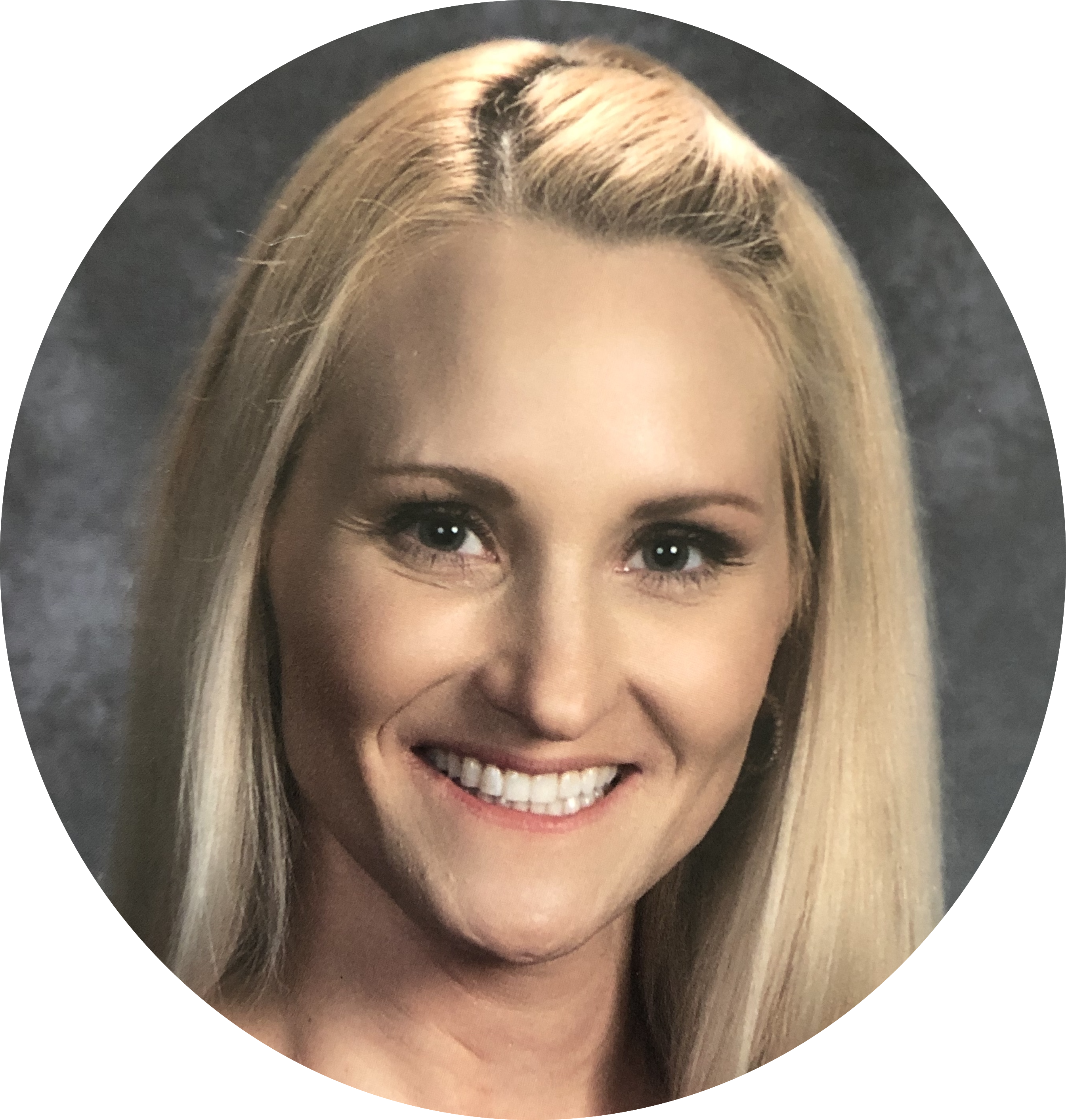 You Won't Regret It
It's a first stop when I am planning my instruction. It offers a variety of learning tasks, labs, review, and instructional tools. Having the information in front of me allows me to spend more time on my instructional strategies and hone in on my content expertise since I am in a new grade level.
KRISTIN KENNEDY // Science Teacher
Join the Membership Now
Join Thousands of Science Teachers and
Access ALL of the Kesler Science Resources Today.