FREE 4th - 8th Grade Science
Lessons You Can Rely On


Download Complete Lessons from
Every Kesler Science Product Line for FREE.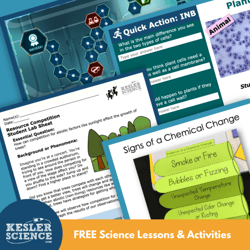 You'll receive an email with the link to the Dashboard of lessons and other emails from Kesler Science. You can unsubscribe at any time. No Credit Card. No Commitments. We never sell your Contact info.
$100+ in Free Science Lessons and Activities
Middle School 5E Lesson: Complete 2-week lesson covering plant and animal cells
5th Grade 5E Lesson: Complete 2-week lesson covering living vs nonliving components in an ecosystem
4th Grade 5E Lesson: Complete 2-week lesson covering the meaning of "life cycle" with examples in plants and insects
Escape Room: Plate Tectonics escape room
Amazing Anchors: A two-part resource on Albino Redwoods that bookends your lesson and is available in print or digitally
Board Game: A printable Chemistry board game format designed to keep the students engaged
Graphs, Charts, & Tables: Builds graphing skills with phenomenon-based connections with Fossil Records and Kinetic and Potential Energy
Lesson Extensions: Provide early finishers the chance to dive deeper with the Components of The Universe Extension, filled with fun and creative activities
Inquiry Labs: Leveled inquiry lab that covers competition for resources in an ecosystem
Spangler Phenomenon Lessons: Hands-on, leveled investigation about water and heat
STEM Challenge: Real-world STEM challenge relating to natural selection
Spangler STEM Starters: A high-interest, no-prep SICK! Science video from Steve Spangler on creating Bubble Snakes
Station Lab: Student-led station lab about the H-R Diagram
Science Reading Comprehension: Leveled reading passage and activity about electric cars
Warm-Ups: Two weeks of warm-ups
Interactive Notebook Sampler: A sample of best-selling interactive notebook templates which now includes digital options
Sub Plans: A comprehensive sub plan about food webs
WIKI Tickets© Formative Assessments: Nine quick, fun formative assessments
Writing Prompts: A newspaper writing prompt about organization in an ecosystem available in both paper and digital versions
It's Easy to Find What You Need
Find out what tens of thousands of other middle school science teachers have already discovered.
FREE Lessons
A free login gives you access to view and print over $100 worth of resources from Kesler Science's best-selling product lines. No commitments. No credit card necessary.
Dashboard Access
All of the products are stored on a personalized dashboard for easy access.
Video Descriptions
Each product line has a video introduction telling you how to use that product in the classroom.
Aligned with NGSS & TEKS
Each activity is aligned to the 4th-8th grade TEKS and NGSS standards. Alignment guides are included on your dashboard.