Kesler Science Membership
School and District FAQ
We've compiled a list of the most common administrator questions in the sections below. If you have additional questions, please feel free to contact our Account Manager, Kathleen Malooly, at kathleen@keslerscience.com.

Many of these questions are addressed in our "Admin Talking Points" letter as well. Feel free to download and distribute.
WHAT IS THE KESLER SCIENCE MEMBERSHIP?
The Kesler Science Membership gives 5th-8th grade science teachers access to ALL the Kesler Science resources – including updates and new releases of classroom materials – for the duration of the subscription. Finding high-quality lessons has never been easier for science teachers.
WHAT'S INCLUDED IN THE MEMBERSHIP?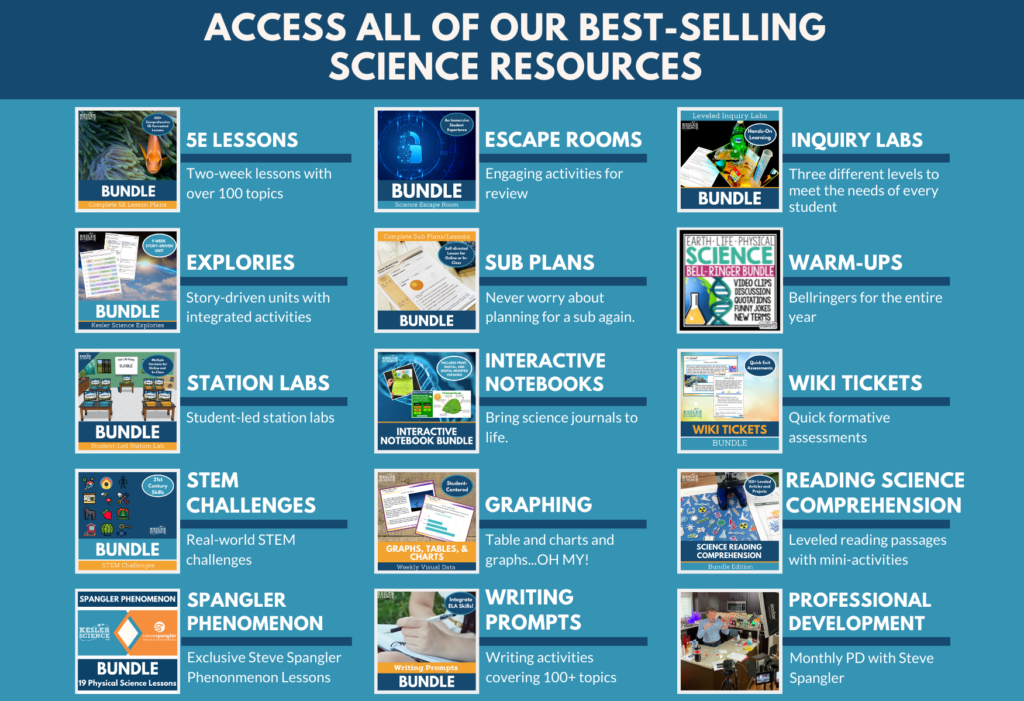 IS PROFESSIONAL DEVELOPMENT INCLUDED IN THE MEMBERSHIP?
Kesler Science members will have access to six hours of live and recorded professional development with Steve Spangler throughout the year. Steve is "a best-selling author, STEM educator, and business leader branded by TIME Magazine as one of their 'most influential people of the year' because of his passion to inspire the next generation of scientists and engineers."
HOW DO TEACHERS ACCESS RESOURCES?
Teachers will access their resources from a dashboard using a unique login.
WHAT TECHNOLOGY IS NEEDED?
A web browser is needed to access the resources. Most resources are PDFs, PPTs, or DOCs. Resources can be imported into learning management systems like Google Classroom, MS Teams, Canvas, and Schoology.
Teacher Approved
WHO USES KESLER SCIENCE?
Tens of thousands of middle school teachers use Kesler Science curriculum. Kesler Science is one of the top-selling teacher-authors on TPT and has been peer-reviewed by fellow teachers over 50k times.
WHAT DO OTHERS SAY ABOUT KESLER SCIENCE?
"Last year was my first year using the 5E lessons in 8th grade science and after years of dropping performances, my passing percentage went WAY up with a tough group! The students loved being able to take ownership over their learning in the station labs which also gave me quick formative assessment opportunities and opened up lots of teachable moments! Having modified options was a life saver for me as well as for my special ed and 504 students!" – A. Reynolds
WHAT KIND OF SUPPORT IS INCLUDED?
Members will have access to "members-only" professional development videos which explain the resources and how to implement them most effectively. We have live chat support during business hours, and we are just an email away to help with any support issues. We offer live, remote curriculum implementation sessions, as well.
IS IT RESEARCH-BASED?
All of the lessons and activities from Kesler Science have been tested in classrooms across the country. The foundation of the resources is the 5E method which is one of the most recognized teaching strategies for science.
ARE THERE SAMPLE LESSONS I CAN LOOK AT?
Absolutely. Teachers or admins can download $100 in free resources to get a feel for the quality and structure of many of the different lessons.
DO YOU HAVE DATA TO SUPPORT THE EFFICACY OF KESLER SCIENCE RESOURCES?
The monthly attrition rate of Kesler Science subscribers is less than 5%, which speaks volumes considering many teachers are paying out of their own pockets. Teachers are seeing results in their classrooms and we hear feedback from them on a daily basis.

"I wanted to let you know that I have been a lab member since January of 2017. I was recently hired on as an assistant principal so I had to cancel because I no longer need it. I am really going to push and see if I can get this material for my science department that I will be leading. I wanted to let you know that this material literally saved my life! I have used it for the last three years, and I have seen more success each year. I worked in a very low income school (78%) economically disadvantaged population, and each year over the last three, we have seen a 7%-9% increase on STAAR scores each year! Before I purchased my membership we had a 59% passing rate, and after 2019 we were at 77%. The amount of material the membership gets you and the ease of use is easily the best science material for middle schools! I am so glad I was part of everything, and I can't thank you enough." - Justin R.
Meeting Your Needs
DOES THE CURRICULUM INCLUDE DIFFERENTIATION?

Yes, the core materials include support for differentiation. Some examples include three levels of inquiry labs, leveled reading passages, sentence stems for answers, and different versions of the station labs for on-level and developing learners. Extra activities like escape games are not differentiated.
IS THE CURRICULUM DISTANCE-LEARNING FRIENDLY OR 1:1?
Yes. We have created distance-learning versions of the 5E presentations, Interactive Notebooks, station labs, science reading comprehension passages, sub plans, escape rooms, Spangler Phenomenon lessons, WIKI Tickets formative assessments, and writing prompts.
DOES IT ALIGN WITH MY STANDARDS?
Our materials align with 5th - 8th NGSS and Texas TEKS standards. You can view our alignment guides here.

HOW DOES THE CURRICULUM SUPPORT ELA?

The Kesler Science curriculum is student-centered and requires them to obtain information through reading. Specifically, there are resources like the writing prompts, science reading comprehension passages, station labs, and sub plans within the curriculum that focus on comprehension and drawing inferences.
HOW CAN THE RESOURCES BE USED WITH MY STUDENTS?

Resources can be used in class as paper resources or on digital platforms like Google Classroom and Schoology. Resources are downloaded from the Kesler Science Dashboard by the teacher and distributed as files to students.
Purchasing
ARE THERE DISCOUNTS FOR SCHOOLS AND DISTRICTS?
There are discounts for more than 10 licenses and multi-year discounts. Email here

HOW DOES LICENSING WORK?
Each teacher will need their own license. The license covers one teacher and all of their students of record.

DO YOU TAKE PURCHASE ORDER (PO'S)?
Yes. Purchase orders are accepted. Please fill out a quote request here.

ARE YOU AN APPROVED VENDOR?
A W-9, sole-source, or required vendor information can be obtained by sending an email to schools@keslerscience.com. We will gladly fill out any paperwork necessary to become an approved vendor if we aren't already.

WHERE CAN I FIND A PRINT AND DIGITAL USE AUTHORIZATION?
You can find the authorization here: https://kesslerscience.wpcomstaging.com/print-and-digital-use-authorization/

HOW DO I OBTAIN A QUOTE?
Please fill out a quote request here. We will email you back with a quote within 24 hours on normal business days.